Odyssey Vol. III: Hills and Masts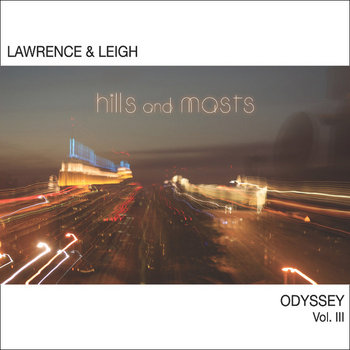 "There isn't a moment on
Hills and Masts
that isn't engaging...
The record's hypnotic effect carries you through Stokes's operatic indulgences, visceral bluesy wails and '60s doo-wop backing vocals. These elements add nostalgic magic to the record's fuzz-saturated ambience ― embellished with echo-y effects, distorted clanging and street buzz recordings ― dropping you into an ethereal dream that weaves through generations of sounds."
"One thing they're not is a typical folk duo. Whatever magic these two share together as singer-songwriters is matched equally by an intense interest in studio trickery. Complimenting their soaring harmonies with collage effects bordering on musique concrete, Lawrence and Leigh's sound is brimming with ideas that keep obvious categorizations at bay. The music of Andrew Kalleen and Kristin Stokes seems to reinvent itself after every listen, so be prepared to spend some time with these tracks as they move from bare acoustic arrangements to electronic 4-on-floor grooves and back again in epic and rewarding proportions."
"Extensive, fresh and full of depth both musically and lyrically, Lawrence and Leigh's crafting has most definitely brought about a unique edge to the new music scene...

boldly taking folk and indie pop to evaluative new heights...[Hills and Masts is] a complete and atmospheric listening experience, with a sublime sense of imagery, radiating from their cleverly woven musical harmonies and haunting vocal compilations...
Hail to the duo's luring ability to capture the ear—to take you up high and down low—to push you through varying levels of tones and torment, harmonies and happiness—to leave you with at the very least, an admirable appreciation for their style, and their ability to integrate the elements of music and theme."